CLXTrainer CBT for ControlLogix with
RSLogix 5000 Process Automation Controller (PAC) overview
(Certificate Course)
The CLXTrainer software (Computer Based Training) for ControlLogix Training comprehensively covers the topic with an overview of RSLogix 5000 PAC from Allen Bradley. The Computer Based Training (CBT) gives a very clear understanding on the fundamentals of the RSLogix 5000 PAC (Process Automation Controller).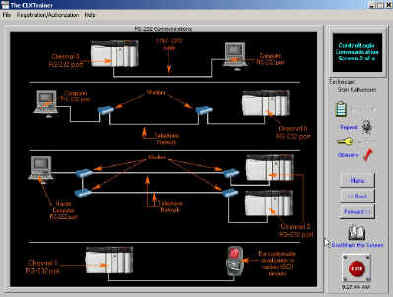 Note:
ControlLogix™ Software:
If your equipment has any of the following example Control Logix™ PAC model numbers, you can benefit from this training. All series 1756 - 1756-L63 (1756L63), 1756-L55M14, 1756-L55M16, 1756-L55/A, 1756-A17, etc.
RSLogix 5000 software:
The RSLogix 5000 software is used for sequential, process, drive and motion control programming of AB Logix hardware platform. (Allen-Bradley® Logix platforms: ControlLogix®, FlexLogix™, CompactLogix™, and SoftLogix5800™, as well as PowerFlex 700S with DriveLogix™)
(Pre-Requisite: Since the training is on PAC (Process Automation Controller), it is advised to be fully trained in PLC (Programmable Logic Controllers) before attending this course on PAC. A basic course on PLC (Programmable Logic Controller) can be availed at https://yesyen.com/ PLC_Training.php and is the minimum training recommended before availing the ControlLogix and RSLogix 500 PAC course.)
COURSE CONTENT (50 hrs)
Introduction to ControlLogix
Overview of RSLogix5000
ControlLogix Architecture
ControlLogix Memory
Project Organization
Data File Types
ControlLogix Bit
Instructions
Timer Instructions
Counter Instructions
Data Collecting
File/Data Manipulation
Shift Registers/Sequencers
Program Control Instructions
Documenting Programs
Communications
The Course includes:
- A final Exam to evaluate the learning
- A Laboratory Manual
- Password protected Student Log File
- Ability to print Certificate of Completion
- Ability to print test responses
About PDF Manual:
This computer based training (CBT course) also includes a ControlLogix training manual in PDF format so you can print it out. The Controllogix training manual is full of proven practical applications that allow you to work through the PAC's instruction set and gain a better understanding.
Cost for Single User Version:
Download: US$189
Other options include "Intranet Site License" and a highly beneficial discount if bought as a bundled collection of automation software.
Contact us for more details at contact_automation@yesyen.com