TRAINING FOR
- PROCESS PLANT OPERATORS
- INDUSTRIAL MAINTENANCE
- COMMUNITY COLLEGES
DeviceNet Software Tutorial (Certificate Course)
The DeviceNet Software Tutorial - Level 1 teaches "What is a DeviceNet", Component Identification, Power Supplies, Tips and Tricks and more. This DeviceNet tutorial also provides an Introduction to DeviceNet Messaging allowing industrial automation control between different equipment vendors.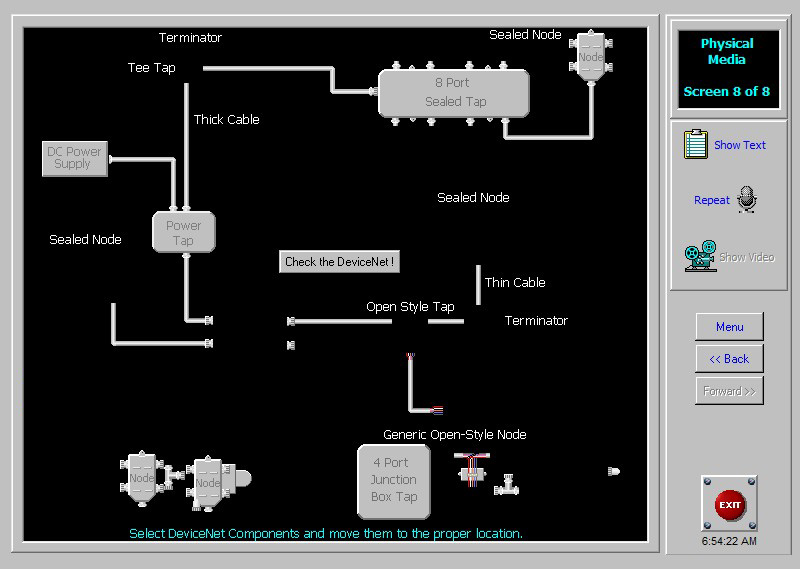 - The DeviceNet training takes the user through simulated design and maintenance of an efficient DeviceNet.
- This tutorial can be used as preparation training for the commissioning of plant.
- DeviceNet Tutorial-Level 1 includes a simulation of Cutler Hammer Automation's NetView Software. The simulation covers Explicit Messaging.
- A unit covering tips and tricks to the successful commissioning of plant industrial network is also included. These are things we learned the "hard-way!"
(Pre-Requisite: is recommended  to take the PLC Programming Basics Course before taking this DeviceNet course)
COURSE CONTENT (35 hrs)
What is DeviceNet
Component Identification
Physical Media
Power Supplies
Grounding
Intro to DeviceNet Messaging
Tips & Tricks
Glossary
The Course includes:
- Final Exam
- Laboratory Manual
- Ability to print Certificate of Completion
Cost for Single User Version:
Download: US$119
Other options include "Intranet Site License" and a highly beneficial discount if bought as a bundled collection of automation software.
Contact us for more details at contact_automation@yesyen.com