Electric Motors and Controls Training (Certificate Course)
The course on Electric Motors and Control Circuit Training comprehensively covers the topic. The course covers the various aspects starting from wiring diagrams, ladder diagrams, motor control theory and proceeds to cover the entire AC Motor Control System. An understanding on the various real time applications is gained and an introduction to PLCs (Programming Logic Controllers) is also included. To develop competencies the course has a Troubleshooting module and a Laboratory Manual in PDF format is provided that includes proven wiring assignments.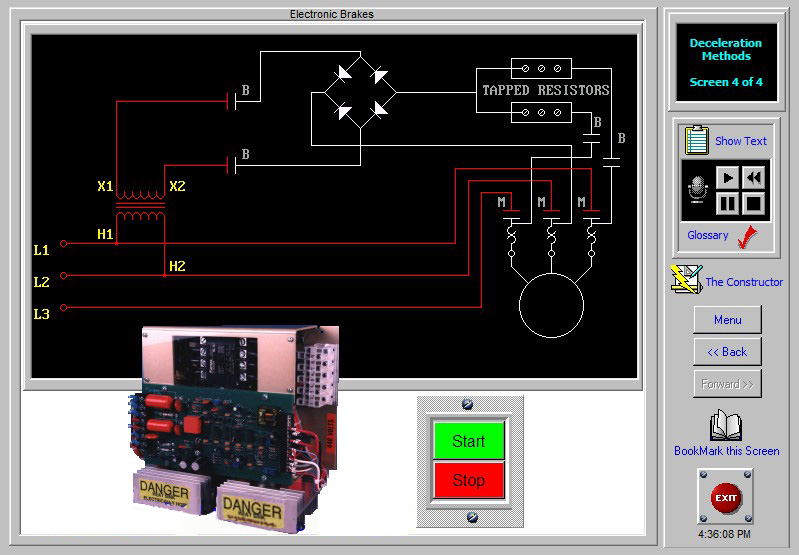 - From motor controls basics to AC motor speed control circuits, the content is explained with colorful, engaging and interactive training.
- Electrical circuit diagrams are covered with animations of real life electric control parts, relating them to their respective electrical symbol on electric control circuit diagrams.
- The course explains solenoid switches and solenoid valves basics with interactive simulations.
- The basics of motor control using VFD (Variable Frequency Drive) are also covered.
- A detailed troubleshooting section "Troubleshooting Motor Controls", gives an application oriented understanding.
- This Electrical Motors and Controls Training course comes with an interactive, self scoring Final Exam!
COURSE CONTENT (60 hrs)
Wiring Diagrams vs. Ladder Diagrams
Ladder Diagram Logic & Basic Rules
Solenoids
Electromechanical Relays
Introduction to Timers
Control Applications
AC Motors
Sensing Devices
Preventative Maintenance
Safety
Two Wire Controls
Three Wire Controls
Separate Controls
Hand-Off-Automatic Controls
Sequence Controls
Reversing Controls
Jogging Controls
Timing Relay Circuits
Starting Methods
Deceleration Methods
An Introduction to PLCs
The Course includes:
- A Final Exam
- Laboratory Manual
- Password protected Student Log File
- Ability to print Certificate of Completion
- Ability to print test responses
Cost for Single User Version:
Download: US$119
Other options include "Intranet Site License" and a highly beneficial discount if bought as a bundled collection of automation software.
Contact us for more details at contact_automation@yesyen.com