VFD Trainer - Variable Speed Drives Explained (Certificate course)
 If you are looking for training on AC frequency drive and related motor control troubleshooting the VFDTrainer - Frequency Drive Training Software is the tutorial for you.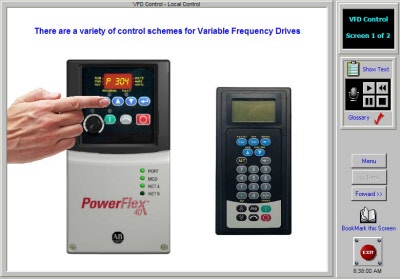 - The variable speed drives explained (VFD controller operation) are very common in industrial AC motor speed controls and rotating equipment.
- VFD freq drive implementation has achieved Cost Savings in industries. The cost justification has made variable speed drives very common in industries and the training course provides a strong understanding on the topic.
- Modules in VFD use parts, operation, installation, start up, the VFD controller and even soft starters.
COURSE CONTENT (25 hrs)
AC Motors
Uses of Variable Frequency Drives
Parts and Operation of a VFD
VFD Controller
VFD Installation
VFD Start-up
Soft Starters
Motor Control Troubleshooting
The Course includes:
- Interactive Quiz
- Final Exam
- Laboratory Manual
- Password protected Student Log File
- Ability to print Certificate of Completion
- Ability to print test responses
About PDF Manual:
This computer based training (CBT course) also includes a Laboratory Manual in PDF format so you can print it out. The 30 page training manual is full of proven practical exercises, assignment sheets and quizzes that allow you to gain a better understanding of AC frequency drives and VFD operation. Also included are actual Soft Start and RFD vendor manuals for your reference.
Cost for Single User Version:
Download: US$119
Other options include "Intranet Site License" and a highly beneficial discount if bought as a bundled collection of automation software.
Contact us for more details at contact_automation@yesyen.com