TRAINING FOR
- PROCESS PLANT OPERATORS
- INDUSTRIAL MAINTENANCE
- COMMUNITY COLLEGES
Lock Out Tag Out Procedure (LOTO) is a safety regulation followed in industries to prevent any casualty during maintenance and servicing of dangerous equipment by completely isolating the equipment. The Lockout Tagout Training module describes a typical LOTO scenario.
The steps required in a Lockout Tagout procedure are clearly documented as an isolation procedure. The instructions include identification of energy source, isolation of Energy source, lock out and tagout of the energy source and confirming that the LOTO is effective.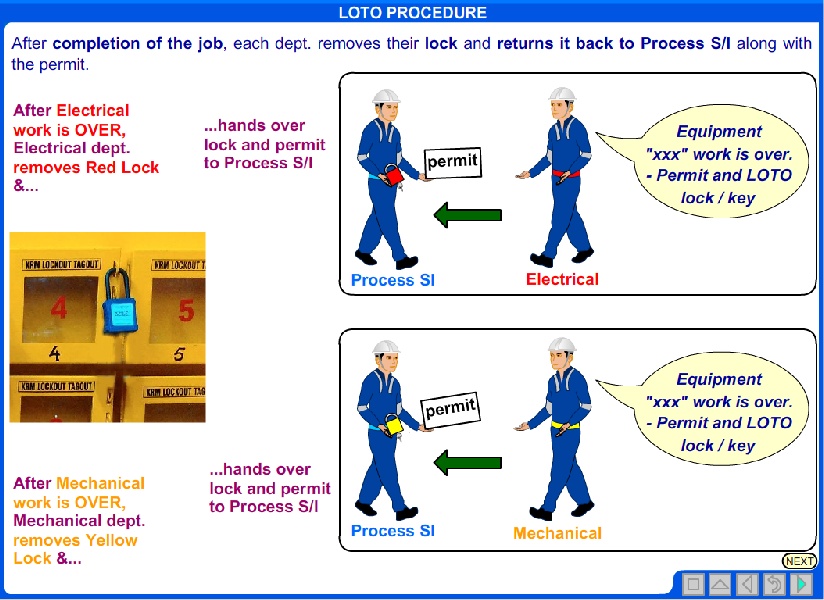 Figure above is a snapshot from the Lockout Tagout Training module
Different types of lockout devices are used depending on the type of locking possible, like Direct Locking, Lockout Hasps, Cable Locking, etc. The training modules covers a typical step by step sequence of the procedure, where a equipment is requested to be isolated.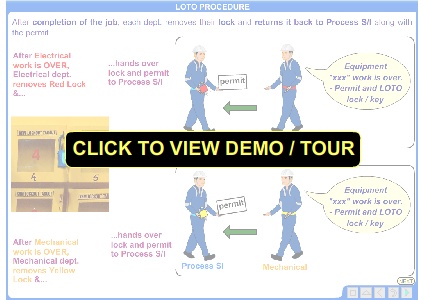 We can develop similar content CUSTOMIZED to SPECIFIC Flow Diagrams / P & I Diagrams / Process Flow / Equipment Working, etc for REFINERIES & PROCESS INDUSTRIES.
Process Industries / Refineries are requested to contact us for a FULL DEMO of the above Training Module on "Lockout Tagout Procedure", using the below form.