TRAINING FOR
- PROCESS PLANT OPERATORS
- INDUSTRIAL MAINTENANCE
- COMMUNITY COLLEGES
ROTARY PUMP TYPES / RECIPROCATING PUMP TYPES - CLASSIFICATION / GAME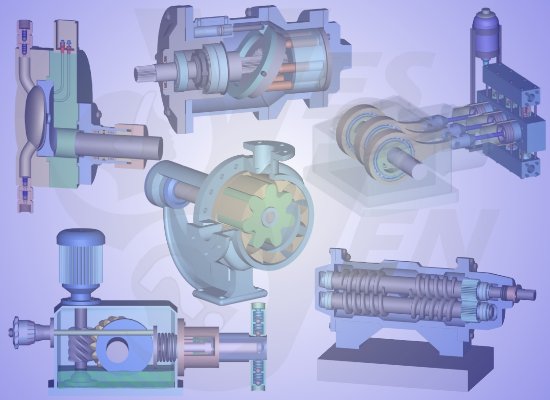 Centrifugal Pumps are not suitable to meet requirements like:
- A small or medium pumping capacity required against high pressure.
- To inject or adjust very precise quantity of liquid against varying suction and discharge pressure conditions.
- To handle viscous liquids, etc.
Positive displacement pumps can be used to meet such requirements. This is because they are "constant-flow machines" and operate by forcing a constant volume of fluid from the inlet pressure side of the pump into the discharge zone even if the discharge pressure varies. Hence irrespective of the discharge head, the all these pump types produce a constant flow for a given speed of rotation.
The pumps positively push or displace equal amounts of fluid into its discharge for every working cycle. Hence the discharge pressure that is developed will depend on the resistance offered by the system. If limitations like slippage are neglected, the maximum head attainable by the system will depend on the power of the drive and the strength of the pump parts.
Positive displacement pump types can be primarily categorized into Rotary and Reciprocating Pumps.
Rotary Pump Types:
In rotary pumps the liquid is displaced by rotation of one or more (multiple) rotors within a housing that is stationary. A partial vacuum is created at the suction side which draws the liquid into the casing and higher pressure is developed at the discharge side that forces the liquid out.
Reciprocating Pumps Types:
These pumps work by the to-and-fro motion of a reciprocating member inside a cylinder (chamber). The pumps have inlet & outlet valves, which operate in relation to the motion of the reciprocating member.
A FREE Description of the various types of Rotary and Reciprocating Pumps is provided in the tutorial listed below.
VIEW / DOWNLOAD graphically described RECIPROCATING and ROTARY PUMPS TYPE CLASSIFICATION / GAME
- The above content is NOT representative of the Industrial Training Courses listed in the Product page
For a much more
Detailed Training
on
Positive Displacement Pumps (Rotary and Reciprocating)
with
Extensive Animations
and
Graphics,
which give a
Practical Understanding
probably to a level never achieved before avail the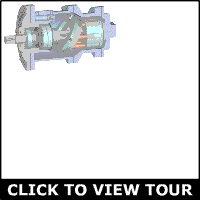 TRAINING COURSE ON POSITIVE DISPLACEMENT PUMPS