TRAINING FOR
- PROCESS PLANT OPERATORS
- INDUSTRIAL MAINTENANCE
- COMMUNITY COLLEGES
SCREW PUMP WORKING PRINCIPLE -
ANIMATION VIDEO
A Screw Pump is a rotary type of positive displacement pump. The screw pump working principle involves the rotary action of screw rotors. As depicted in the double screw pump represented below the pump works by:
- Drawing liquid into spaces between threads at suction end
- Axially carrying the liquid that is trapped in the spaces between the threads
- Discharging the liquid at the outlet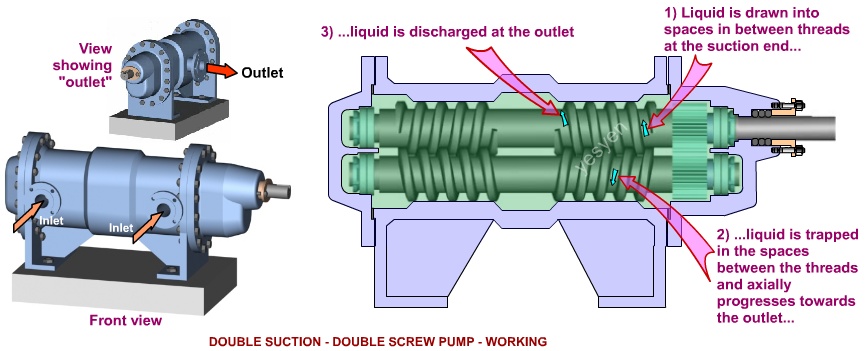 SCREW PUMP WORKING PRINCIPLE
These Pumps are either of the single screw (progressing cavity) type or multiple screw type. The single screw pump works with a single rotor mating with threads inside a stator thus carrying the liquid along. Multiple screw pumps can be of the double or triple rotor configuration.
The screw pump working animation video below describes the working principle of a typical double suction, double screw pump.
Screw pumps works to provide true axial progression of the liquid. It is very advantageous for pumping liquid when churning or liquid agitation is not desired.
Gear Pump Working Animation Video
(The above video that briefly explains the screw pump working is a SIMPLIFIED extract [for
video] from the Positive Displacement Pump Training Course listed in the 'Product' page)
- The above content is NOT representative of the Industrial Training Course listed in the Product page
For a Detailed Training on Positive Displacement Pumps
(Rotary and Reciprocating)
with Extensive Animations and Graphics,
which give a Practical Understanding probably to a level
never achieved before, avail the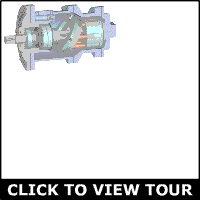 TRAINING COURSE ON POSITIVE DISPLACEMENT PUMPS