TRAINING FOR
- PROCESS PLANT OPERATORS
- INDUSTRIAL MAINTENANCE
- COMMUNITY COLLEGES
RECIPROCATING COMPRESSOR WORKING PRINCIPLE -
ANIMATION VIDEO
Reciprocating Compressor belong to the category of Positive Displacement Compressors. The compressor working principle involves the reciprocating action of a piston inside a cylinder, which compresses air / gas inside the cylinder. The compressed air / gas is then discharged through respective valves into the discharge port.
The piston is made to reciprocate by a connecting rod that receives drives from a rotating crankshaft arrangement.
Reciprocating compressors are primarily of 2 types:

- Trunk design
- Crosshead design
Trunk Design: In the trunk design working the piston is directly connected to a connecting rod which in turn receives drive from a crankshaft. The working principle in a trunk design allows compression and discharge of air / gas only at one end of the cylinder.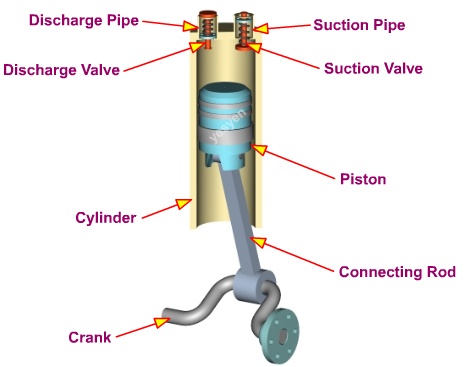 Crosshead Design: In a crosshead design the compressor works by means of a crosshead that connects the piston and the connecting rod. The design allows compression and discharge of air / gas at both ends of the cylinder if required.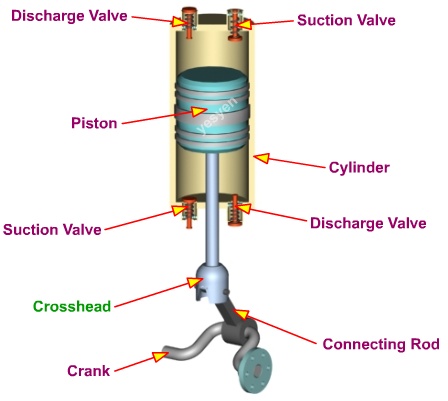 The reciprocating compressor working principle animation video describes a multi cylinder representation of a compressor that has both trunk and crosshead design cylinders.
Reciprocating Compressor Working Animation Video
(The above video that briefly explains the reciprocating compressor working is a SIMPLIFIED extract [for video] from the Compressor Training Course listed in the 'Product' page
- The above content is NOT representative of the Industrial
Training Course listed in the Product page
For a Detailed Training on Compressors
with Extensive Animations and Graphics,
which give a Practical Understanding probably to a level
never achieved before, avail the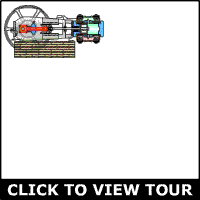 TRAINING COURSE ON COMPRESSORS